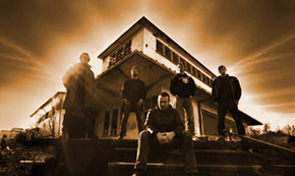 Hollow Corp. forms in Colmar, Alsace, France, in 2005, intending to create a sound that is both atmospheric and crushingly heavy, integrating elements of metal, hardcore, stoner or post rock.

During 2006, the band is preparing to release their debut album, through Swedish label Dental Records. Cloister of Radiance is engineered and mixed in Switzerland by Julien Fehlmann and mastered in Sweden at Tonteknik Studio (In Flames, Entombed, Refused) by Magnus Lindberg and Pelle Henriccson.

According to Prosthetic Records, the American label distributing the album in North America, Hollow Corp. "manages to pull off a sound both progressive and pummeling without feeling standoffish. All the while, the breadth of Cloister of Radiance is both epic in scope and monstrous in sound, progressively roping in a wide array of sounds and subgenres, yielding a metallic outing with three songs over the eight-minute mark and nearly as many metal genres within its grasp."

As for gigs, we can mention live appearances with Gojira, Textures, Jesu, Kill The Thrill, Punish Yourself, The Ocean, Zatokrev, Membrane, Eisenvater, and others, as well as the opening concert for the "Eurockéennes de Belfort" in 2007.

Laurent Michalak (Drums) • Stephan Azam (Vocals) • Romain Fiorot (Bass) • Guillaume Schleret & Pascal Guth (Guitars).